If you are planning to purchase or lease a copier machine, there are many options in the market today and it can for sure be overwhelming. If your business is new to this copier machine ownership, there may be technical terms that will confuse you and you may end up buying a not suitable model for your work's needs. There is also a higher chance of needing A4 and A3 printers in this search.
A3 and A4 printers refer to paper sizes that print machines often handle. To make the difference clearer, this article will go into detail about the differences between the two and the important factors that you should consider before buying one for yourself.
A4 Printers
A4 printers print 8.27 x 11.69 paper sizes which are similar to 8.5 x 11 US letter-sized sheets. A4 multifunction printers are compact and are designed to make letters or small-sized papers for postcards and envelopes. However, it can also be used to make letter-sized or A4 papers with the right specifications. In offices and homes, A4 printers are the most popular because it can come up with documents in letter sizes. Most importantly, the consumables of this kind of printer, like ink and paper, are easily found in bookstores.
A3 Printers
A3 printers make a larger variety since this kind can accommodate paper sizes of 11.69 x 16.53 inches. These outputs are ledger sized which are 11 x 7 inches. A3 multifunction printers are convenient to operate because they can produce small A4 sizes, ledgers, legal, A3s, postcards, and envelopes. Since this kind of multifunction printer can produce varied sizes of paper, they are quicker in terms of speed than their A4 counterparts. Also, it has a higher number of pages-per-minute production.
By size, A3 printers are larger which follows that their ink cartridges are also larger than usual. You are more likely to save on toner, ink, and consumable replacements in the long run if you will choose A3 printers. For this reason, many business owners go for A3 printers. Aside from paper size differences, footprint features, durability, speed, cost, and volume are also some of the most important deciding factors when selecting between an A4 and an A3 printer.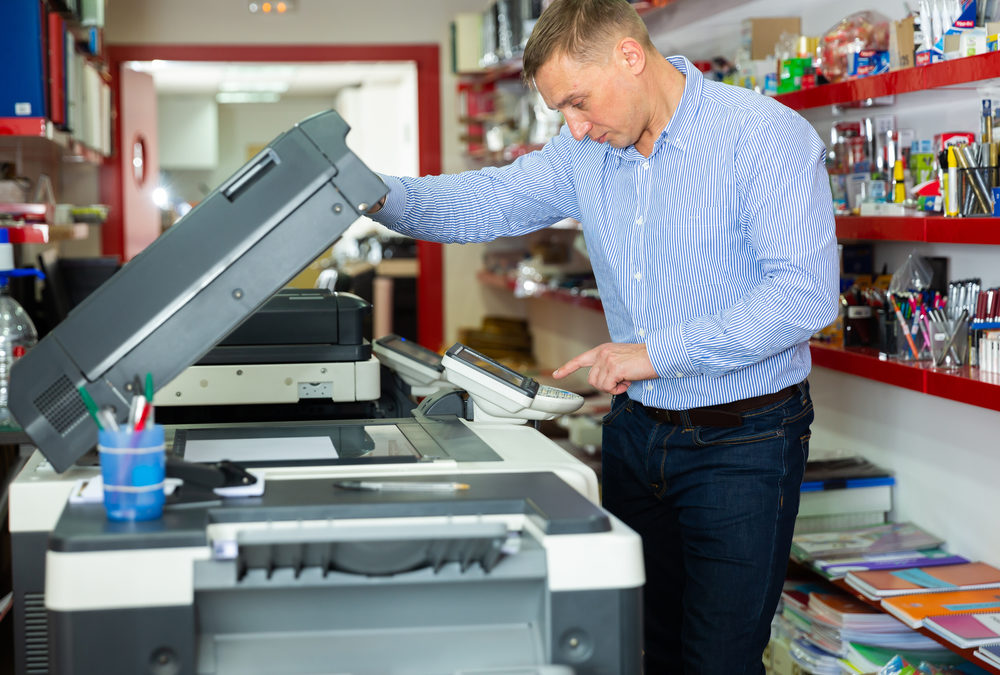 Volume
Volume refers to the number of prints per month which is usually around 5000 pages for A3 printers. If your business needs are around 3000 pages per month but want your outputs to be in great speed and colour, A4 printers are the best choice for you.
Costs
When considering leasing a copier or printer to choose from, you should calculate the exact cost of ownership of both A3 and A4 printers. Finances are a major consideration to take into account especially since there are payment options that want upfront fees on top of the copier lease services, supplies and maintenance services. It is also essential to know about the colour, volume, and black-and-white volume that your printer can produce in a month.
The operational cost for any machine varies based on its use. Working with our sales representatives can make your life easier by helping you determine the total ownership cost and make sure that you are making the right investment for your business needs.
Speed
Speed is an important consideration to make, and this can go beyond what an A4 and A3 models have to offer. A4 printers produce lesser paper outputs than A3 printers and run at a worse speed. For this reason, it might be difficult to look for an A4 machine that has speed and print quality in 1 model.
Features
A4 printers print in US or letter sizes which are often what businesses and home settings need right now. For larger printing sizes, like ledgers, and tabloid sizes, A3 printers are the best to go with., Both A3 and A4 printers have copy, print, facts, and scan capabilities, although the A4 ones have more limitations. There are fewer finishing options if you go with A4 printers but there are still some that come with internal finishing and stapling features.
Durability
A4 printers are generally less durable with lightweight compact materials. This kind of machine is manufactured to accommodate a little volume. So, if your business needs more than what an A4 printer can offer, it may turn out slow and could wear out quickly. A4 machines are also more likely to require replacements and servicing over time. A3 printers on the other hand, since it's larger, are considered more durable and therefore can last longer than A4 printers.
Should I buy an A4 or an A3 printer?
A4 devices are ideal for smaller teams and smaller offices with a maximum of 5 people that need small printing needs of around 3000 pages each month. A3 printers on the other hand are the best choice for companies with several employees using the machine throughout the day. So if you are expecting this machine to accommodate a big printing volume, then A3 is the best printer option for you.
If you are looking to purchase a copier for your business, you may contact Clear Choice Technical Services. You can also contact us if you need copier leasing services, copier rental services and IT Services. If your Business is located around Boston, you may call copier lease Boston our office at (617) 221-7774.
Right-sizing your office needs is an important part of any buying process. It's necessary to first list down your needs just to have a clear vision of the print volume that you'll need each day. If you want more information about an easier printer and copier buying process, call us now.