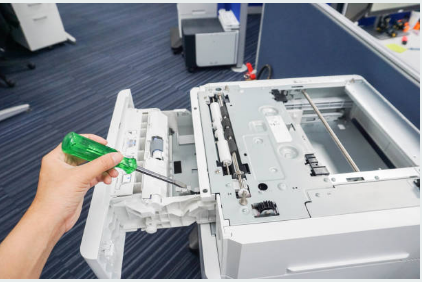 PRINTER, COPIER, PLOTTER… If your productivity is dependent on these pieces of equipment, investing on the really good kinds would be more than just reasonable. It would be ideal.
But while the model and make, as well as the add-on features matter in the first place, its proper maintenance is twice as important. And if in the long run, you find yourself already dealing with some problems related to your device, getting the best people and service company would surely help you save big bucks.
That is why, the best resort is to tap the expertise of technicians who can remedy your device and bring your equipment back to working mode in no time, and your job, back to life.
In picking the ideal printer or copier maintenance services, we have come up with few points to aid you in your research.
On-site Repair Availability
If your equipment weighs tons of kilos, then you would surely find it convenient having a service company that offers an on-site repair. Otherwise, transporting the device to and from the service center would be time-consuming, and getting a schedule to do so would also count hours if not days of waiting. You could not afford to lose much time especially when the productivity of your work depends on your printer or copier machine. Therefore, ask for an on-site maintenance service.
Availability of a Printer for Temporary Use
Let us assume that repair takes at least two or three days. It is thus important to have a temporary printer or copier to use, provided, of course, by the service company. Others offer a temporary device for free usage. If, however, they come in with a price, it would not be that expensive and a paid alternative would still be a good work-saver option.
Maintenance Contract
Does the service company offer a maintenance contract? This might be another cost-saving — aside from equipment-saving — move for the company. You would have two option: wait for the whole duration of your printer being fixed while you pay for a rented printer or copier vs paying for a reasonable cost on a specific duration of contract for preventative maintenance. Do the math and see which option would bring you more savings.
If your Location is around New York, you may visit Copier Leasing Miami, Copier Copiers Miami or call Service Location NEW YORK : (866) 620-2287