Multifunction printers, more popularly called MFPs, once had a waste-of-money reputation for being an all-around, no-speciality service product. In recent years, however, these machines have proven their worth in both value and quality.
With the hundreds of brands and models in the market today, choosing a good MFP has also become difficult. To help you in your selection, here are several key features to consider including duplex printing, print speed, and paper capacity, dual-scanning capabilities, security features, and, most importantly cost.
With regards to cost, your first-time purchase includes the cost of buying the machine's consumables such as the ink or toner, the paper, the transfer/fuser kit, the drum, the post-sale services, and the warranty plans. Warranty expenses are a non-popular cost that's included upon purchase. However, since one machine is to be shared by many in a business or office, any uncovered downtime is counterproductive and costly.
What features do good MFPs carry?
If you're in search of a good MFP, take note of these 3 important features…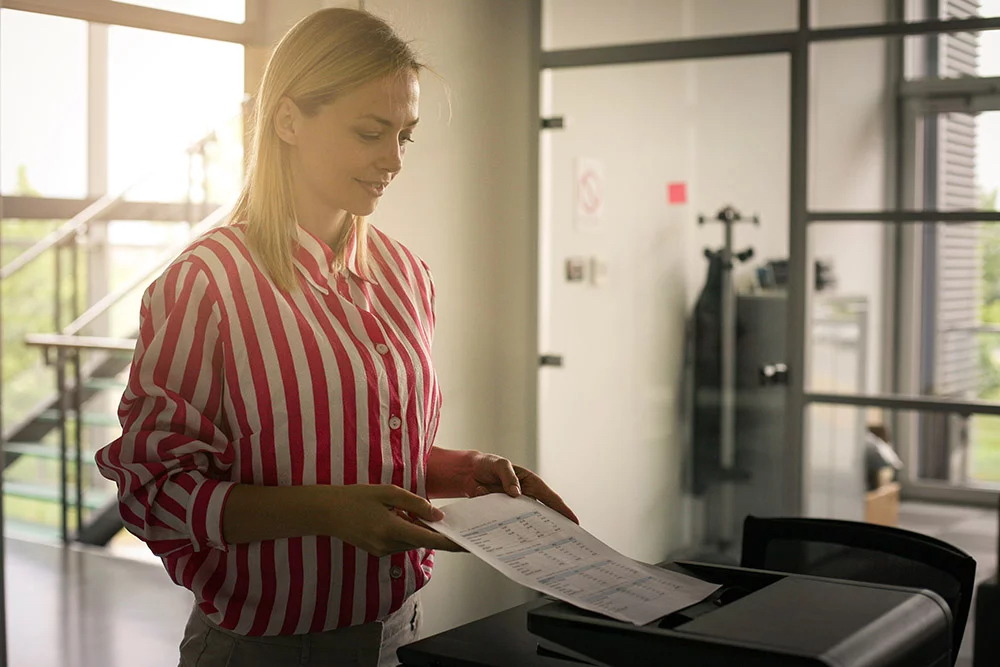 Speed
The MFP's speed is one of the most important statistics because this will tell you how fast or slow a device can print, copy, and scan. This is measured by the pages each minute of production; this is actually the top consideration when buying MFPs. The speed also is directly related to the volume as faster machines most often have a bigger copy volume. Typically, a workgroup device is shared between 4 to 10 individuals that will usually have a print and copy speed of 20-40pages each minute. If you are using your device at this pace and need, you will need a machine in the mid-volume device category.
Volume
An MFP's volume means the number of pages the machine is designed to produce each month. Generally speaking, printers, copiers, and scanners built at lower production speeds also have a lower production volume. For better understanding, MFPs are categorized into volume groups instead of their actual volume capacity. MFP volume categories include (1) SOHO or small office, home office, or occasional use, (2) low volume, (3) mid volume, (4) high volume, and (5) professional print. If you are thinking of purchasing a multifunction device, always check its estimated volume with respect to how often the device is going to be used.
Network Connectivity
When investing in a digital document device, the general rule to follow is to find one that has as many great features and benefits as there are to get.
One common feature of a good digital device is its capacity to interface with a computer network. When it's connected to your computer's network, the MFP will become a more feature-rich, powerful network of scanners, printers, copiers, and so many more. With network functionality, on the other hand, you should also consider the operating systems to be used and the manner by which you want the MFP to position within your network. As a common rule, all mid-volume-sized MFPs and upwards have full network functionality in them as a standard feature.
What MFP brand is best?
Here are the top 5 MFP brands and models of 2022. These have great features that are designed for varying MFP needs. So whether you are purchasing for a busy office or home use for your kids' activities, any of these is perfect for the job!
HP OfficeJet Pro 9015e
HP Envy Pro 6455e
Epson WorkForce Pro WF-7820
Brother DCP-L2550DW
Canon Pixma TS9520
Copier Lease Wichita offers MFP devices for copier rent, copier lease, and copier purchase. Tell us where you intend to use it, the production speed and volume you require for it to have, and some other important features you need for your job to be done- and we'll offer you a line-up of machines (and its corresponding cost) that you can choose from. 
If you are looking for a Copier for your business, you may contact Clear Choice Technical Services. You can ask about Copier Leasing Services, Copier rental services, IT Services, and even Copier Repair services.
For more information, call us today!