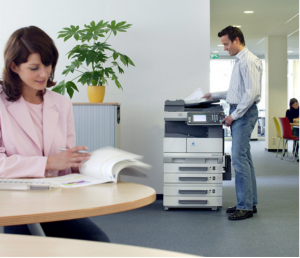 WHEN PEOPLE say they own a computer set, we often imagine the conventional lot, one that comprises the following: a typical desktop, a keyboard, and a mouse, a CPU or the central processing unit and a printer.
Particularly those dealing with hard document copies, a printer is directly proportional to the computer in terms of necessity and importance considering its major function in printing out files. This specific piece of equipment helps students actualize their assignments in hard copies, employees with their paperwork, and writers with their articles and essays. But what of those people who do have computers but not a printer?
When in need of a printer, purchasing one is not the only solution. In fact, you actually have two options: Either to buy or to rent one.
Imagine this: You are in the middle of a progressing job when suddenly, your printer broke down. Does that necessarily mean you would automatically need to buy a new one? Of course not! Especially in a situation under financial constraint, the next best thing to do aside from buying a printer, is to rent one out. You may even have your old one repaired as you make use of the rented device.
The great thing about rentals is being able to return the machine once you are done with it, especially if your job does not require constant printouts. If, however, you're the type who believes that investing in a new printer is more financially sound than having to constantly rent one out, then buying one is also one ideal option!
By buying your own printer, you are the type who thinks long term. Having your personal printer would mean less worry about returning the device or having to pay for repairs.
So be it renting or buying a printer, the underlying fact is, having a ready printer comes in handy if ever you need something printed immediately. Fact is, everybody needs a printer every now and then.
If your location is around Sacramento you may visit Copier Lease Sacramento, Copier Repair Sacramento and Copiers Sacramento or call Service Location SACRAMENTO: (916) 245-6006