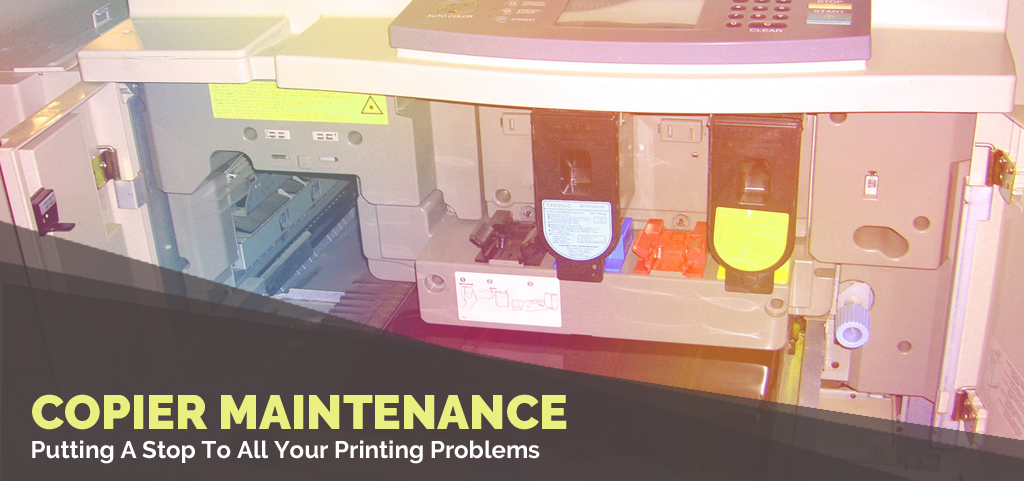 Copier Maintenance
— Putting A Stop To All Your Printing Problems
Copier machines are among the most preferred and trusted tools in the industry with products ranging from simple black and white printers to multi-function printers for large companies. However, these machines need maintenance and occasional repair to keep them running like new.
This Is Why You Need A Copier Maintenance Service Installed
In most offices a malfunctioning photocopier will cause serious operational issues and a great deal of frustration—especially when the deadlines hit. In addition, due to the complex mechanisms of modern machines they can be very costly to repair. Because of both these facts, finding a photocopier service provider is crucial to maintain a smooth business flow.
The arrangements for photocopier maintenance services vary, but if you lease or rent your photocopier, it is likely that it will already be included in the agreement contract. The following should give you a better outlook on what things to expect when you avail a copier maintenance service:
At what cost will the photocopier consumables be supplied?
How long will it take to send out a technician if the photocopier breaks down?
Will you have to pay a fixed monthly fee, a fee based on the volume of usage or both?
Will the contract cover the cost of parts and labor if the photocopier needs to be repaired?
Even the top brands in the industry of multi-function copiers will always need a service arrangement in place. Think about it.
To manually copy something by hand, like a document, it will take about 3 – 5 minutes on average and that's assuming you're fast writer. So just imagine a copy machine doing the same job, but in outputs of hundreds or thousands in the span of time you've manually copied a document. It's crazy fast.
This is not only convenient, but also one of the greatest weaknesses of printing machines no matter the brand or advertised features. Since the printing process involves repetitive actions, something is bound to end up broken or worn.
So after a day or two of extreme printer use, you're sure to notice a drop in quality and function until it finally stops working altogether.
But, here's the good news.
Although printers or multi-function machines are susceptible to damage, a good maintenance routine is the key to avoiding major problems, breakdowns, and lapses in productivity.
At Clear Choice Technical, we know the value of proper maintenance and we personally initiate routine visits to fine tune your equipment to ward off any potential malfunctions.
Maintenance Includes:
Photocopiers and Multi-function Devices (MFD'S).
Networks and computers
Franking Machines.
Printers (color and mono)
Binders
Shredders
Facsimile Machines
Plotters
The Benefits:
Remote access meter reading retrieval
Proactive specialist service software
Priority response
Annual invoicing or flexible payment plans
Known budget costs
Reduced administration
Accredited engineers for all major manufacturers
Remote access meter reading retrieval
Our copier maintenance service is tailored to all our individual clients' requirements.
Whether you require an onsite photocopier technician, engineer, or merely wish to have your office equipment checked on specific dates, there is no requirement too big or too small. The Clear Choice Technical photocopier maintenance is designed to make your workplace and life easier with a fixed cost service package, which includes all parts, consumables, and labor charges.
The Guarantee Of A Copy Machine Maintenance
Our maintenance service will ensure the integrity, compatibility, and operability of your copy machines. As experts in the field of premier office equipment and supplies, we are proud of our work in providing you with the highest level of customer support in the industry.
Copier Machine Maintenance by Clear Choice Technical
Copier machines are the number one equipment required in any kind of business. Today, these printers are more advanced than they have ever been and become even more equipped in order to further support the success of your business.
At Clear Choice Technical, the choice is clear. Call us today at 866 620 2287 and get the best offer!
References: