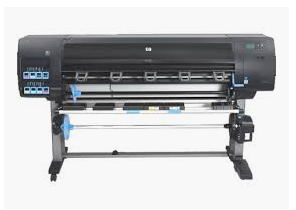 SPEED AND PRODUCTIVITY. That is the epitome of machine ingenuity and innovation. We demand everything to be quick as we give so much value to every second of our hectic day.
The more we do, the better and the more productive we become. That's why machines have to pick up the pace. This goes the same with plotters, speedy printing, and good performance. That's what we demand in plotters.
Hewlett-Packard's DesignJet Z6800 is probably the king of speed and quality so far. If not the best, it has a place among the top plotters when it comes to delivering almost perfect photographs. This newer model in the Z printer series of HP has had a number of improvements with respect to its older counterparts.
HP Double Swath Technology
The technology implements a reconfiguration of the printhead nozzles thus allowing a wider printing path. By extending the print path, this ensures a faster printing rate. HP is the first company to make use of such a solution.
Spectrophotomoter
The DesignJet Z6800 has an embedded spectrophotometer in its system. The job of the spectrophotometer is to recognize the different shades of color within the photograph. This ensures that the printed output would be as visually close to the digital image in terms of color range and depth.
File processing
The plotter has a high processing power. This is something that you need to look for in a plotter especially when printing high quality, large file size photographs. This ensures a smooth printing process.
These are some of the highlights of the new Z6800 model. Other features include automation, ease in operation and management, as well as being heavy duty.
Other reviews show its users are more often than not engaged in businesses that require quick printing of high-quality images on large media.
The Z6800 model undoubtedly capitalizes on speed and productivity which makes it fitting for both large and small-scale businesses that engage in these types of productions.
This plotter model is not for everyone, though. Unless you require heavy duty printing on a daily basis, purchasing this would rather be impractical. Otherwise, going for a plotters leasing service would be far more feasible.