All devices come with a predetermined lifespan. Manufacturers often suggest around 5 to 7 years of operational lifetime with some more years to it. In the present market today, the lifetime is estimated depending on the number of clicks each month the machine has performed and the number of printouts it has produced for the same amount of time.
More robust larger copier machines usually get more clicks than advised. This means that a more powerful copier or printer machine can take more clicks comfortably than those made for small businesses only. Copier leasing services, made for small businesses in contrast can have a shorter lifespan if it's made to carry out bigger jobs than it was made to do.
What is a copier's average lifespan?
A floor-standing copier machine is estimated to last for 3 years maximum if it went through heavy use. After 3 years, manufacturers warn of breakdowns and hiccups even before it starts to happen. However, as the market's baseline, 5 years is generally accepted as the lifespan for standing copier machines that have been used a little less than those heavy-duty ones. At maximum rate, floor-standing high-end copier machines that are occasionally used can last up to a decade.
There are actually two criteria that will best answer the question; Is your copier old enough?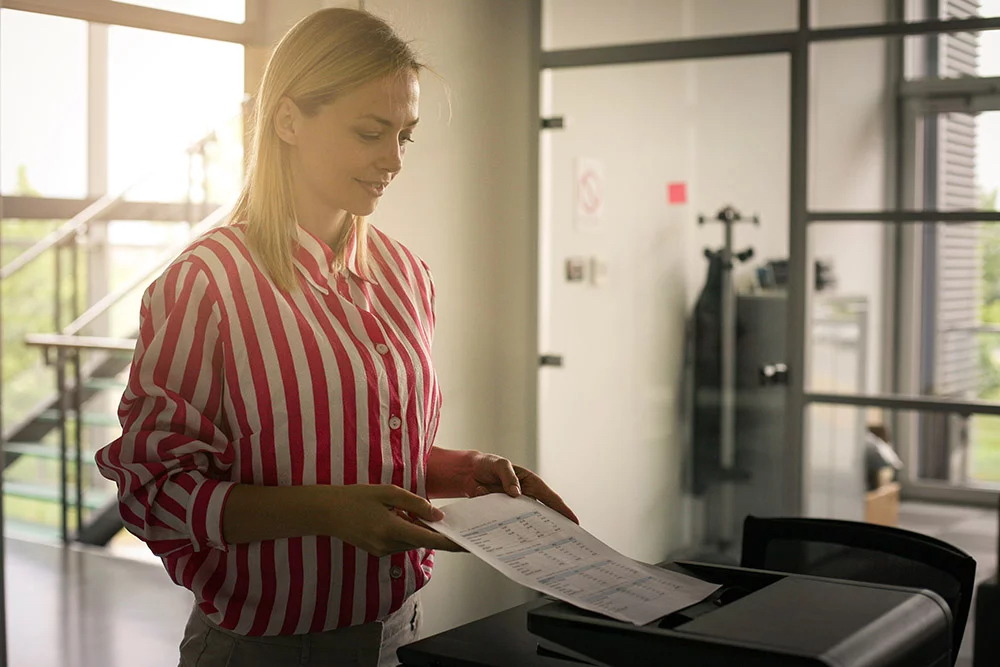 1. How long was the copier in operation?
Most manufacturers give a baseline of the number of hours that a particular machine is expected to effectively operate throughout its lifespan. Copier lease service, a copier that's been used only several times within a period of two years is understandably in better function and shape than those left constantly running every day for two years.
2. Is it meeting print and copy demands?
Since businesses are expected to grow, the need for printing and copying also grows. So a copier designed for mid-ranged functions and capacity may be enough for those that are experiencing slow growth. However, even new copier machines will be considered not enough or "behind their time" if it's not able to meet the demands of the company, copying and printing wise.
How would I know if my copier needs replacement?
Warning signs for replacements may show at any time after months or years of use. However, these are surefire signs to determine if the copier or the printer isn't meeting your business demands:
1. Slow printing
This is the easiest to spot among the surefire signs. Printing technology is fast advancing so much so that even last year's models are considered slow printers. While this factor isn't usually a deal breaker, especially with businesses who use printer and copier machines seldom. If you have a hundred pages that have to be printed urgently, you will appreciate printing speed.
2. Poor printing quality
Printing streaks, faded texts, and missing pages are all signs of a failing printer. If you are experiencing any of these, it can be a sign of the best time to replace your printer or service it for maintenance.
If after running its diagnosis, you are still experiencing these issues, then definitely, your printer has to be replaced by a newer model. The print quality is a popular issue with older models whether lines are noticeable or not. But you need to remember that there are printers that do not show ropes in their outputs but have noticeably been producing lower resolutions in their photos and images.
3. Ink cartridges are difficult to find
This has become the biggest reason why businesses go for copier and printer upgrades. Unfortunately, older printer machines don't have technical support, especially after some years have passed. The original manufacturers have more likely stopped producing the cartridges because they themselves have stopped producing the printer models.
Conclusion
The printer is stuck in the past. If the printer that you have right now does not connect to ethernet capabilities or wifi, it is really time to buy a newer model. Without connectivity features, you will not be able to receive firmware updates which are literally lifesavers for any digital machine these days.
The warranty has expired. Most of the time, warranties run only for a 90-day free period or don't have warranties at all. There's a huge chance that if you are reading this, your own printer warranty has expired or has never existed at all. Warranties typically range from 90 days to 3 years, depending on the manufacturer's contract. If the printer does not have a warranty, getting it repaired or serviced may cost a lot.
If you are looking to purchase a copier for your business, you may contact Clear Choice Technical Services. You can also contact us if you need copier leasing services, copier rental services and IT Services. If your business is located around Boston, you may call copier lease Boston at our office at (617) 221-7774.
Thinking of purchasing or leasing a copier? Do you have any questions about the present copier market? Our sales representatives are ready to help. Call us today.