The best prices you can get, the best features you can have, and the best quality assurance you can experience. These are some of the small pictures you can take from having these lists of the best printers in 2022.
Please beware that these lists though were not handpicked by brand choosing, rather they were chosen from different reviews they were given.
The Brother MFC- J995DW
Highlights
– It is an inkjet type of printer with a display of 2.7 inches wide. The display is colored and with a touch screen scenario. The features it can offer were scanning, printing, faxing, and photocopying. With the means of connectivity, you have to salute this equipment as it can work with 802. 11 b/g/n, through Wi-Fi, ethernet cables, and USB 2.0 versions.
Pros
– Though printing with text and high-coloured graphics may seem to disrupt the speed of the printer, this Brother MFC-J995DW couldn't care less. Besides giving high-quality produced images and graphics, the speed of production was not altered.
– The speed of this equipment is not to be questioned even with scanning and faxing. The quick speed they can offer with printing is similar to the scanning and copying effects.
– Some may concern about the cost-efficiency of some printers. You do not have to worry about this type of printer as these costs minimal ink wastage in printing.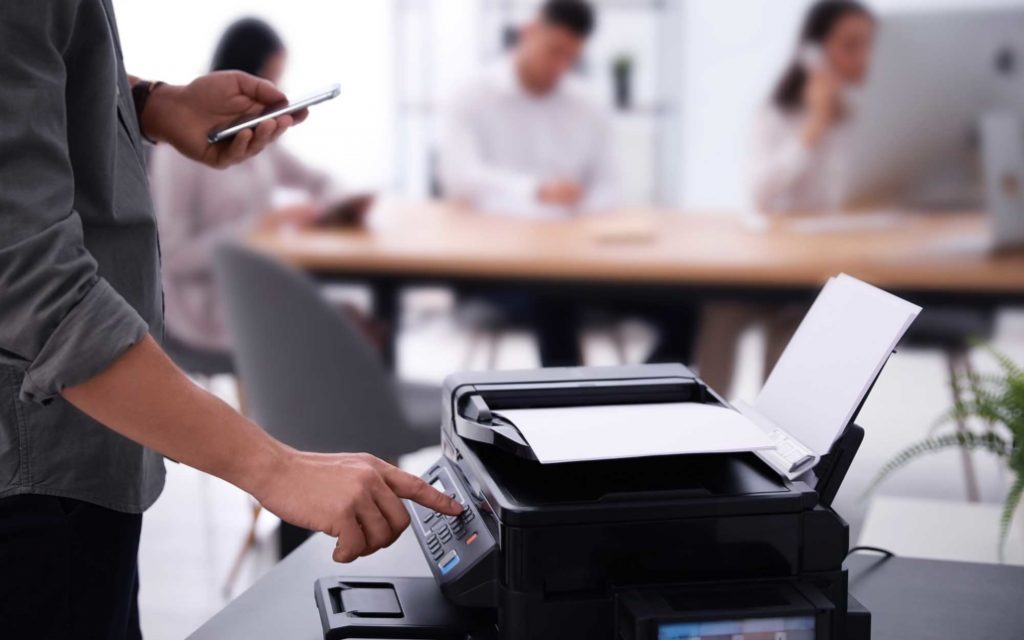 Cons
– Though the speed is not a questionable feature of this equipment, however, the quality of scanned images or graphics you may get disappointed. Scanning from this equipment does not offer the same pixels and colour enhancement as printing. You cannot also make two-sided copiers or scan via ADF which is an important tool when sending and receiving documents.
The Brother MFC-L2750DW
Highlights
– This is a monochrome or laser type of printer which is one of the considered best laser type printers for this year. Since this is a monochrome type, its toner is suitable for black only. The display feature of this equipment ranges from 2.7 inches wide with colored touch screen effects. For the connectivity, it is suitable for 802.11 b/g/n WiFi, ethernet connection, and the use of USB 2.0.
Pros
– Since it was a proud best laser monochrome type printer, it applauds itself with speedy production in scanning black and white texts and images. It has also fast production even with colored printing pages. Aside from that, the paper document feeder was also designed for fast printing since it automatically adjusts every print.
Cons
– Since it is a bare monochrome printer type, it has an average color scanning speed on that matter. This is for the reason that the images need a longer period to adjust through the laser types.
The Canon Pixma TR8620
Highlights
– This is an inkjet type of printer, which is the same as others inkjets that can print, fax, scan, and photocopy. It has a large wide touch screen of 4.3 inches, coloured which allows wider visibility. Since it has an ink/ toner type of cartridge, it requires black, cyan, magenta, and yellow inks. The connectivity is also for various types like WIFI, ethernet, and USB 2.0 version.
Pros
– With lots of inks installed in its cartridge, it has a fast photo and copying mechanism. It has produced high-quality images and is available for ADF and duplexers.
Cons
– Since it consumes and needs a lot of ink stocks with different hues, it may sound to be costly in maintenance and printing production. When copying, this equipment does not allow two sides at a time, thus may take a while for copying pages of two sides. And the scanning part only allows through ADF.
Conclusion
If you are looking for a Copier for your business, you may contact Clear Choice Technical Services You can ask about Copier Leasing Services, Copier rental services, IT Services, and even Copier Repair services. And or, If your Business is located around Atlanta, you may visit or call copier lease services Atlanta.
There are a lot of options of printers to choose from in the market. Hope that you can check this list before purchasing one. You never know when this life hack FAQS and reviews can help your printing problem/printer-friendly solution.