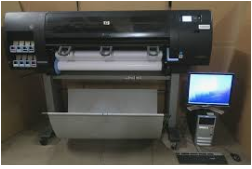 WHEN IT COMES to hiring a new employee, trying out on a new gadget, or even supporting a new sports team, we all look at their performance.
If in the printing business, a plotter with an exceptional performance without compromising quality is ideally preferred. Luckily, latest models tech companies manufactured have improved features that deliver performance with great results!
One of the performance-based equipment the market has to brag about is Hewlett-Packard's DesignJet Z6200, a 42-inch plotter considered to be one of the most heavy duty plotters with speedy printing.
The model is visibly pretty easy but its defining trait lies not in its sleek appearance but in its efficiency and printing quality.
The model has 8-ink cartridges for light cyan, light magenta, magenta, yellow, chromatic red, photo black, light gray and matte black. Opposed to a 6-cartridge model, the Z6200 could offer printouts with better color quality and variety. The three different shades of gray and black assure a nice and smooth contrast between the different tones.
Each cartridge has a 775 mL capacity, thus making it perfect for a long-term printing. With a better gloss uniformity and specialized ink, the HP Z6200 can print out an entire image using significantly fewer amounts of ink compared to an average plotter device. Each pass allows more printing, which lessens the printing time.
In terms of use, the device is fairly easy to operate. The ink cartridges have a simple snap in and out replacement maneuver to make it easier to reload the plotter with ink. The device accepts backlit or proofing paper, fabric, bond, banner or coated paper, film and photo paper.
In terms of cost, the model has a significantly higher requirement for energy with a power requirement of 420 Watts when in operation.
Financially speaking, considering the fairly advanced printing technology and its printing capacity, the Z6200 model can be a bit expensive compared to the older and more basic plotter models HP has to offer. However, another mode of acquirement would be through plotters leasing, which is more practical.
If we look at performance alone, the Z6200 would easily climb to the top, as this model would be quite suitable for heavy-duty printing. The downside mostly centers around the energy and financial cost difference in comparison with the other older models.
If your location is around Sacramento you may visit Copier Lease Sacramento, Copier Repair Sacramento and Copiers Sacramento or call Service Location SACRAMENTO: (916) 245-6006