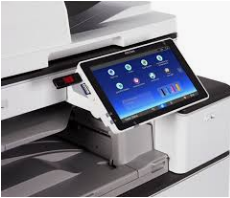 PEOPLE TODAY rely on the ability of whatever available technology in their possessions to perform daily activities, and when it comes to printing and photocopying, undoubtedly, many have relied on copier machines.
With the huge selection of copier machines available, it is quite complicated to pick the one most ideal to our needs. Even going for copiers rental would require you some in-depth research on what device to rent out.
Hence, we have scrutinized each model of copier from the various known brands. In this article, let us take a glance at RICOH's MP 6055SP mono copier.
First, what is a mono copier? From the word "mono," meaning "one," this kind of copier uses only one ink color, and in most cases, just black. Hence, this model can print or reproduce 60 copies at most per minute on a black and white output.
The MP 6055SP copier allows for a simplified daily workload, at the same time, it can forward information to the intended recipient in any preferred format while maintaining the confidentiality of the files.
Through its advanced security settings, this allows utmost protection of your data. Therefore, if your department deals with confidential files, documents, and reports, without necessarily much usage for colored outputs, this could be the copier you need.
Moreover, similar to any smartphone, this model is quite simple to maneuver via a wide touchscreen with just a simple pinch-and-flick on its 10.1-inch Smart Control Panel. Similarly, all scanning, printing, copying and faxing are controlled from the same intuitive touchscreen controls.
You can easily set the shortcuts for your daily printing settings, access important data, as well as distribute information. So, if your job is always on the go and entails report submissions that adhere to strict deadlines, this copier would be a great asset.
On top of those, is the copier's energy-efficient feature that allows for less energy consumption, helping you reduce costs.
If your location is around Chicago, you may also visit Copier Lease Chicago, Copier Rental Chicago, Copier Chicago and Copier Repair Chicago or call Service Location Chicago (312) 216-0722