Starting up a business is just something mind-blowing to some as to how to properly manage it, and avoid the waste of money. The printing business is a good start-up. You just have to own one copier, have a convenient space, and have good customers will make your business running already. But taking into consideration that your start-up copier should meet the standard of criteria needed to attract more customers. Your copier must be reliable, with quality standards, and most importantly acquire excellent customer reviews. In this way, you can assure that your business will have safe travel.
Here are the top 3 copiers which I can best recommend for your start-up printing business:
HP LaserJet Enterprise MFP M725dn
This HP is a great choice for you. As compared to similar models, it has a reasonable price to be competent in terms of speed (40ppm). It entered the market in May 2013.
Speaking of its strength capacity, it can provide support from different mobile devices, cutting down waste with its "green" features. It has close-flawless performance, being durable and reliable at the same time. Its HP design and seamless integration solutions make it even more versatile.
Speaking of its weaknesses, it is slower in speed with scan. Per page is quite a higher supply cost, and its first-copy times are quite slow.
It can be rated at a score of 18.25/20.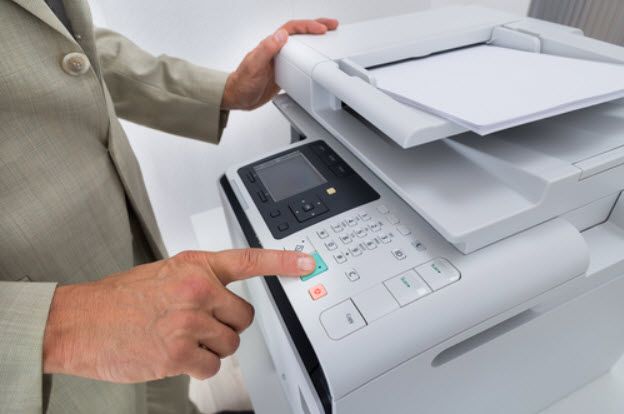 Canon Image RUNNER ADVANCE DX C5840i
Is at the top class with its remarkable reliability, highly competitive, and unrival by other brands in the printing market. Its strong features boast a great pick for small and medium-sized spaces in the office. It entered the market in April 2021.
Its strength to scan in fast and first-copy-out is at a fast overall speed capacity. Even from daytime sleep, printing several file types including Word, PPT, XLS, and PDF, has the capacity for fast first-print times. Also, has an above-average maximum capacity for paper.
Every device also has its weaknesses, Canon is not an exception even considered a top-class copier brand. In looking for administrative tasks, its device settings are unavailable for a search function within the web utility. Another is that within the scan preview its on-screen editing is not supported.
However, it can be rated at a score of 19.125/20. Still, Canon can be considered to be an excellent choice among other brands.
For small and medium-sized workgroups, this is an outstanding choice for you. It has improved reliability and is guaranteed to provide fast speeds making it strongly efficient for users over time. Being a well-known brand in the market, Canon has intuitive maintenance in operational simple guides, in the paper especially to avoid misfeed. However, if there are, you can easily remove sections to retrieve the paper.
Sharp has its strength capacity like the others. One of which is having an above-average maximum paper capacity. Also, when scanning two-sided documents, you can assure that it's working fast. Surely has an average speed in a two-sided print job.
Speaking of its weaknesses, it has a limited help function control panel. Its secure print procedures are not considered intuitive. In terms of paper capacity, Canon is below average.
Still, it can be scored at 18.75/20.
CONCLUSION
If you are looking to purchase a copier  for your business, you may contact Clear Choice Technical Services You can ask about Copier Leasing Services, Copier rental services, IT Services, and even Copier Repair services. And or, If your Business is located around Birmingham, you may visit or call copier lease Birmingham
Your choice of copier for your start-up printing business can be decided best by looking at the basic functions they should possess. Image quality, reliability, security, ease of use, and of course, its features are a few aspects that you should try to be given consideration. By also looking at the user's ratings and reviews, you can easily choose which one could be the best among the others.