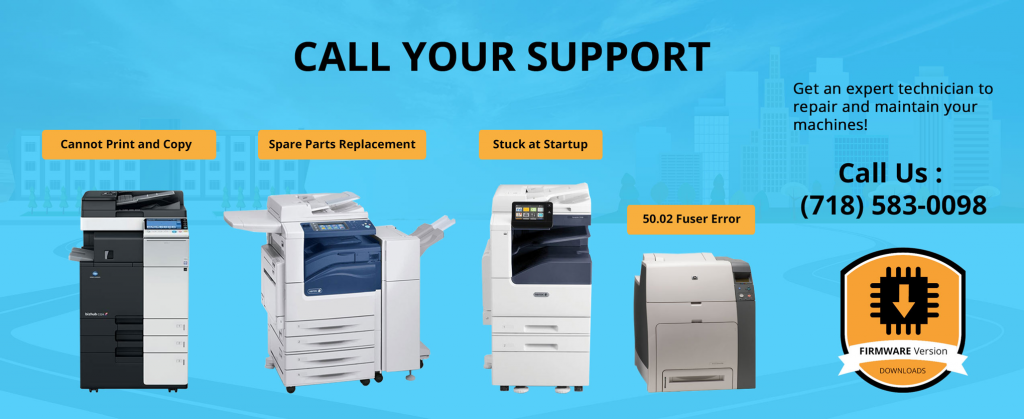 Customer from Jamaica, New York called in to ask for assistance with their Konica Minolta PRO C500. The device says, "Please set toner recovery box and close the door". This error appeared after they have transported the machine from their old office.
If you are looking for a copier lease for your business, you may contact Clear Choice Technical Services. You can ask about Copier Leasing Services, Copier rental services, IT Services, and even Copier Repair services.
Clear Choice technician went on customer's site and was able to solve the problem. We have confirmed that the machine is already up and running.
Please check the below notes for the troubleshooting steps done by our technician to fix the Konica Minolta PRO C500.
Toner Problem
They got this message after they transported the machine from their old office
We sent one of our technicians to the customer's site.
Tech inspected the Toner Recovery Box which is known as Waste Toner bottle as well
He found out that the cover of the Toner recovery box is not tripping the sensor because it's broken causing the machine to detect that the cover is not closed.
He tripped the sensor and the machine did a power cycle and came back to ready.
The broken parts do not have part numbers since those are not usually something that will break. The only way to replace is to obtain the broken parts from a Donor machine
Tech found a workaround and that is to glue the broken parts especially the one that triggers the Toner recovery sensor.
That workaround resolved the machine's issue
We hope that the steps made by our technician could help you fix this problem on your machine. In case you have questions or might need assistance regarding this, our team in Clear Choice Technical Services can definitely help you determine the issues in your machine that needs to be addressed. Call our team at (718) 583-0098 or send us a message at service@clearchoicetechnical.com