The add-on and the initial cost of buying a copier will, for sure, discourage you upfront from finally doing it. When thinking about leasing or buying a new copy machine for a workplace, a large amount upfront may be difficult to spend.
As technology is constantly evolving, it has been hard for workplaces to keep up. You might ask, "What are my options?" "What devices will the staff need?" "What is really the exact cost of buying a machine?" All of these questions are commonly asked, so if you too are asking these same things, you came to the right place. Technology, the great thing about this is there is a wide range of options.
Varying kinds of printers and copiers are designed for multiple types of businesses too. The main thing left here is looking for the right one that can perfectly suit the business' needs and demands.
First, we'd like to warn you that not paying much attention to your budget may affect the business hugely. And to avoid this, you will need to do research before the purchase, make a list of the important functions that the office needs for growth, and assess the office's pain points.
Which copier is really the best?
Canon ADVANCE imageRUNNER DX C5840i
The Canon ADVANCE imageRUNNER DX C5840i is the top of its kind. Its most highlighted feature, which is reliability, is unrivalled to this date. The leading name for print solutions, Canon boasts strong features that make it a great piece of equipment for just any office size.
The best features:
Paper Capacity: Way above (average) maximum capacity
Print Speed: Very fast copying speed that produces a number of file types like XLS, PDF, Word, and PPT
Scan Speed: Fast first-copy-out speed and scan speeds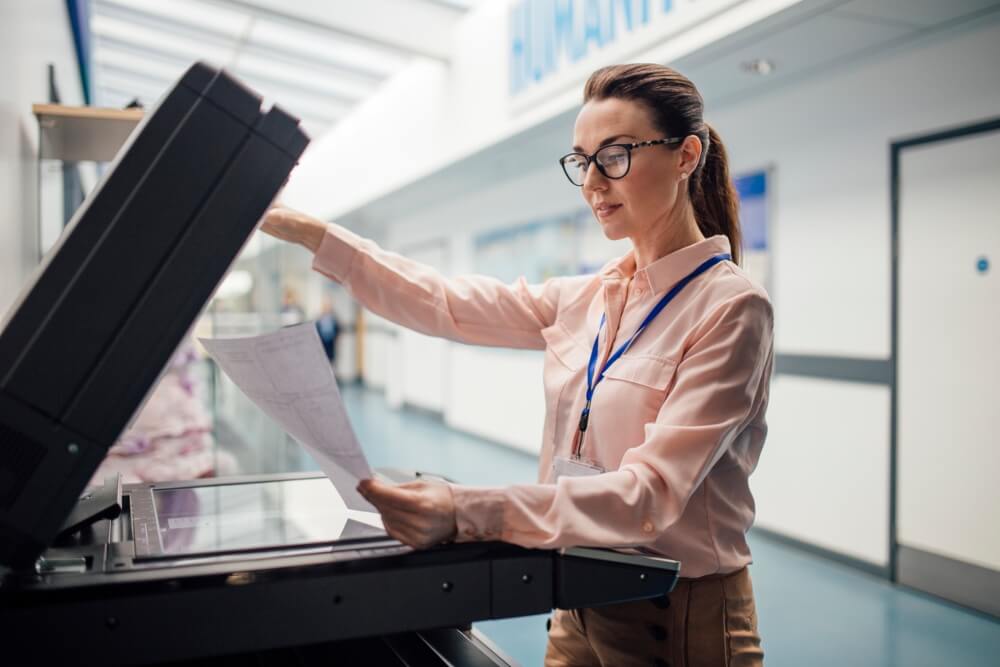 Sharp MX-4071
This Sharp model is an excellent choice for both medium and small workgroups. With fast speeds and improved reliability, Sharp users are sure to experience amazing efficiency. For many years, Sharp has been known for simple guides and intuitive maintenance for an optimum operation like paper guides to prevent misfeeds. If misfeeds happen, sections are easily removable when retrieving papers. Just a reminder, if the need is for strong image quality, Sharp may not be the best equipment to buy.
The best features
Print work: Two-sided jobs are faster than most others.
Scan work: Fastest of its kind with two-sided document scanning.
Paper capacity: Above-average paper capacity
Ricoh IM C4500
To boost productivity, Ricoh IM C4500 has new enhancements and features to stand out. The android-designed interface that's greatly intuitive is one example of this. Its overall performance is outstanding, which is perfect for both mid-size and large workspaces. Smaller workgroups, on the other hand, may find this model too robust for their needs.
The best features
Scan speed: Fast because of its small colour files
Copy speed: Above average copy time
Maintenance service: Two-sided, single-pass document feeder makes the machine require less maintenance.
Copier Options: How much are we looking at?
B&W Multifunction Copiers
Price range: $25-$45/month expenses
If you're looking for a model with a tiny footprint, which can scan, copy, print, and fax. There is a wide range of options at friendly prices.
This kind of copier is the most suitable for those who are looking for low-volume models.
Colour, B&W Copiers
Price range: $15-$45/month expenses
If you are working alone or is just looking for one to start a business, this is the best model to go with.
At this price range, there is a B&W model that can run 47 pages per minute. In this same range, there is a colour model that can run 27 pages per minute.
Business Multi-function Copier
Price range: $60-$300
Business grade copiers are the most popular of this kind for businesses. Since it carries with them multiple capabilities that can fulfil document flow and workload, this kind can handle huge printing volumes.
As high-tech as they are, the models are compatible with many business apps, cloud, and mobile device applications.
At Clear Choice Technical Services we are providing resources and tools to progress your business. For many years, our business consultants are open to your needs and finding solutions that are best for your business needs. We are here to help you grow your business.
If you are looking to purchase a copier for your business, you may contact Clear Choice Technical Services You can ask about Copier Leasing Services, Copier rental services, IT Services, and even Copier Repair services.