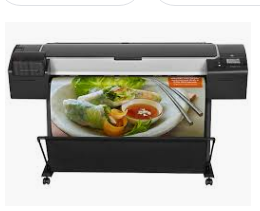 UNDOUBTEDLY, WE ALL give importance to our gadgets and devices. Ironically, whenever we see the tech companies release a new, more advanced, sexier model, we don't give a moment's doubt to drop the ones we have and buy the newer models.
The same goes for plotters. Often times, instead of leasing plotters, buying a newer model would be advantageous for the business.
One of the most recent models Hewlett-Packard released is the HP DesignJet Z5400, a 44-inch wide format printer with a 6-ink printer — magenta, cyan, yellow, gray, photo black and matte black — allowing more in-depth colored printouts.
It has a pigmented ink, meaning, printouts would be long lasting and water resistant. This comes in very handy since some colored printouts fade over time or get damaged when wet.
The Z5400 has two feeder rolls at the back (loading two different sizes of media) and the output tray at the front. The plotter accepts various sheets for printing — fine art paper, bond paper, backlit paper, and banners.
This model will further please those environmentally-conscious users as the Z5400 garnered the "energy star," which is given to business or products that display energy efficiency, this means the model can perform its printing with a minimum amount of energy (120 Watts).
Versatility is also one thing to look for in this plotter since you can actually purchase the device as an MFP, that allows you to get it with a built-in scanner.
People who use and purchase the DesignJet Z5400 claim that the plotter model is a great upgrade compared to the past plotter models released by HP.
Users have printed maps, posters, and so much more from the device.
In hindsight, the HP DesignJet Z5400 has so far proven itself to be an all-around printer that delivers high-quality printouts at amazing speeds.
Environmentally speaking, it passes as an energy efficient device which does both the environment and the users good. Overall, it serves as a great jump forward for people looking to find a good replacement for their old plotter models.
If your location is around New York, you may also visit Copier New York and, Copier Lease New York or call Service Location NEW YORK : (866) 620-2287